AT World Meeting 2017
This year we will celebrate another Anniversary of Foundation. This year our Group is 39 years old. Really a lot of years!
Anyway the days are : 26 and 27 August (last weekend of August 2017)
This year will be special for many many reasons and we will do something of special.
This is the agenda:
SATURDAY morning - Welcome to members already arrived to the Aldo's Garden:
At middle day special dinner based on a variety of good fish, in a typical restaurant of Asti called Ristorante Pizzeria Il Pescatore 5: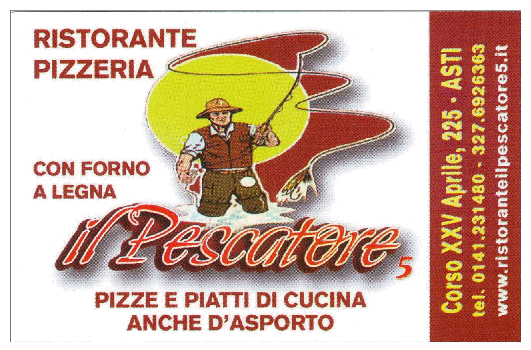 Please note that only a little contribute of 10 euro will be required. The rest of tiket will be paid by the Group.
Please wait in the Aldo's Garden. We will go toghetewr to the restaurant.
Saturday afternoon: Aldo's Garden again for the central boards meerting, discussions, proposals etc.
Saturday evening: FREE dinner for everybody in the Aldo's Garden. If someone will give us a bottle of bear or wine or other local food it will be welcome.Anyway all will be free. Free discussions, music etc. until middle night in FULL AT friendship.
SUNDAY 27 august Gran Finale. This year we will use a new fantastic location called "Country Club La Giardina". Full immersion into a green place near Asti.
We will leave the Aldo's Garden at about 10 AM for the restaurant.
At 11.oo AM Contests, prizes cups, paltes etc etc
At 1.oo PM Dinner, lottery and Gran finale at the restaurant.
M E N U


Appetizers
First dishers
Second courses
Side dishers
Dessert
Prosciutto e Melone
Roast Beef
Vitello tonnato
Agnolotti Burro e Salvia
Risotto al Limone
Arrosto di Vitello
Cosce di Pollo
Patate arrosto
Insalata
Macedonia con Gelato
Please reserve your place asap by sending an Email to This email address is being protected from spambots. You need JavaScript enabled to view it. or This email address is being protected from spambots. You need JavaScript enabled to view it.. Please write clearly the day of your arrival, your unit number and how many people will arrive with you.
See you soon in Asti!