001 Aldo memorial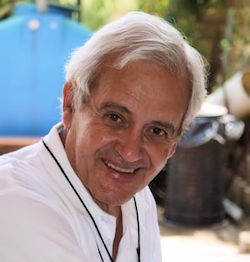 001 Aldo Memorial
An extraordinary event to commemorate an extraordinary man!

In memory of 1AT001 Aldo, creator and founder of G.R.I. Alfa Tango, who will be with us forever.
There was 96 S.E.S. on air for 2021 edition and 95 S.E.S. for 2022! More than 100 S.E.S. for 2023!!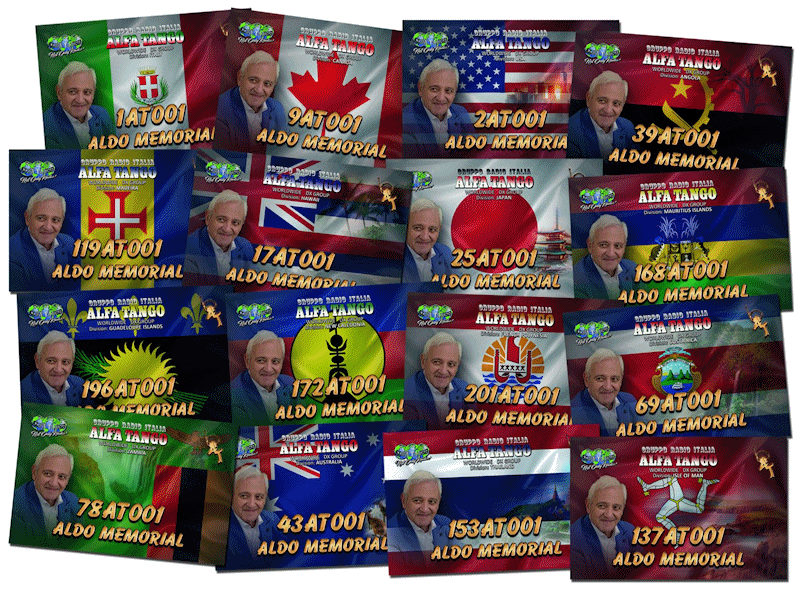 1) Dates and times
The 001 ALDO MEMORIAL award will take place from 00:00 UTC on Saturday 4 to 23:59 UTC on Sunday 5 November, 2023 (48 hours).
2) Participants
The purpose of this Award is to remember our beloved President and Founder Aldo Russi 1AT001, dead on february 2021.
All 11 meters operators are invited to partecipate, regardless of their Groups or Clubs. They will aim to connect as many Special Event Stations (SES) as possible. Each of them can be contacted only once.
Partecipants are intended exclusively as a Single Operators. They are not required to send any log. All ranks will be determinated by the logs received by the SES's.
3) Active SES
There will be on air several Special Event Stations (SES) from different countries, calling with the special call xxAT001. Each AT division with more than 30 members will activate 4 SES, according to the following method. For example from France: 14AT001/A (Alfa), 14AT001/L (Lima), 14AT001/D(Delta), 14AT001/O (Oscar), in order to compose the word "ALDO".
Divisions with fewer than 30 members will activate only one SES. For example from Switzerland: 15AT001.
Each SES can be composed of several operators, all members of the G.R.I. Alfa Tango.
Each SES team must request its callsign via the national Coordinator/Director, if present. If not they can contact This email address is being protected from spambots. You need JavaScript enabled to view it..
At the end of the activation they will send their logs following the instructions provided by the organizing team. Paper logs are not allowed and a dedicated software will be reccomanted.
4) Scores
• 100 points for each connected SES xxAT001.
• 25 points for each SES with suffix xxAT001/A, xxAT001/L, xxAT001/D and xxAT001/O operating from the countries defined as in rule n. 3).
• Each worked country will give a multiplier.
• Completing the word ALDO with the 4 SES of the same country will give a multiplier.
For example, by working:
4 SES xxAT001 from 4 different countries: 4 x 100 = 400 points (and 4 different multipliers)
2 SES with suffix L and O in the same country: 2 x 25 = 50 points (and 1 multiplier)
4 SES with suffix A, L, D and O in the same country: 4 x 25 = 100 points (and 2 multiplier)
The final score will be computed as: 400 + 50 + 100 = 550 points wich will be multiplied for the 7 obtained multipliers totalizing a final score of 3850 points.
5) Prizes
Will be prized the first three classified hunters and the first three SES activators teams.
Each participant will be able to download a personalized digital award from www.alfatango.org, made by 1AT074 Max.
Becouse of the wide number of stations on air, we would like to remember that by our inscription rules who will contact at least 30 S.E.S. from 30 different countries will gain the opportunity to join the AT group as 2nd operator category.
50 AT stations despite the number of coutries will allow to join with the 3rd operator category.
6) QSL
An official flag QSL will be available for each SES. Requests can be sent HERE.
For S.E.S. activities the contribution shall be "voluntary". If the QSL card goes to the same country (of the sender) a S.A.S.E. (self-addressed and stamped envelope) may be requested.
7) Further clarifications
• Contacts between SES are not valid. Each individual member of a SES can contact other SES's but only with its personal call sign.
• The frequency portion between .500 and .600 must be left free. The calls on .555 are admitted but then must be leaved immediately. Please do not abuse of .555 calls.
• The activity must be carried out exclusively in SSB.
• This regulation may undergo further changes, additions, etc. if necessary by the organizing team.

1) Date e orari
Lo 001 ALDO MEMORIAL si svolgerà dalle 00:00 UTC di sabato 4 alle 23:59 UTC di domenica 5 novembre, 2023 (48 ore).
2) Partecipanti
Lo scopo di questo evento è commemorare il nostro indimenticato Presidente e Fondatore Aldo Russi, 1AT001, venuto a mancare di recente.
Tutti gli operatori degli 11 metri sono invitati a partecipare, indipendentemente da Gruppi o Club di appartenenza. L'obiettivo è collegare quante più Special Event Stations (SES) possibile. Ognuna di esse può essere contattata una sola volta.
I partecipanti si intendono esclusivamente come Singolo Operatore, e non sono tenuti ad inviare alcun log. Le graduatorie saranno ricavate dai log dichiarati dalle SES.
3) SES attive
Saranno in onda diverse SES operanti da paesi diversi, che chiameranno con il nominativo speciale xxAT001.
Ogni divisione AT con più di 30 membri attiverà 4 SES, secondo la seguente modalità. Ad esempio la Francia: 14AT001/A (Alfa), 14AT001/L (Lima), 14AT001/D(Delta), 14AT001/O (Oscar), per comporre il nome "ALDO".
Le divisioni con meno di 30 membri attiveranno una sola SES. Ad esempio la Svizzera: 15AT001.
Ogni SES potrà essere composta da più operatori, purchè iscritti al G.R.I. Alfa Tango.
Ogni team deve richiedere il proprio callsign mediante il coordinatore nazionale, se presente. In alternativa dovrà contattare This email address is being protected from spambots. You need JavaScript enabled to view it..
Al termine dell'attivazione ogni SES invierà il proprio log al comitato organizzatore, con le modalità indicate. Non sono ammessi log cartacei.
4) Punteggi
• 100 punti per ogni SES xxAT001 collegata.
• 25 punti per ogni SES con suffisso /A, /L, /D o /O operante dai paesi definiti dalla norma n. 3).
• Ogni paese lavorato darà un moltiplicatore.
• Completando la parola ALDO collegando le 4 SES di uno stesso paese si otterrà un moltiplicatore.
Ad esempio, lavorando:
4 SES xxAT001 da 4 diversi paesi: 4 x 100 = 400 punti (e 4 diversi moltiplicatori)
2 SES con suffisso L e O nello stesso paese: 2 x 25 = 50 punti (e 1 moltiplicatore)
4 SES con suffisso A, L, D e O nello stesso paese: 4 x 25 = 100 punti (e 2 moltiplicatori)
Il punteggio finale sarà calcolato così: 400 + 50 + 100 = 550 punti, che verranno moltiplicati per i 7 moltiplicatori ottenuti totalizzando un punteggio finale di 3850 punti.
5) Premi
Verranno premiati i primi tre hunters classificati e i primi tre SES teams di attivatori. Ogni partecipante potrà scaricare un award digitale personalizzato che sarà disponibile su www.alfatango.org, realizzato da 1AT074 Max.
Visto l'alto numero di stazioni che saranno in aria da paesi diversi, ci piace ricordare che il nostro regolamento prevede che chi collega almeno 30 stazioni AT da 30 paesi diversi ha la possibilità di entrare nel G.R.I. AT con la seconda categoria di operatore. Allo stesso modo, chi collega 50 stazioni AT (indipendentemente dal numero dei paesi) può entrare con la terza categoria.
6) QSL
Una QSL su bandiera sarà disponibile per ognuna delle SES. Le richieste possono essere inviate QUI. Per le attivazioni S.E.S. il contributo è "volontario". Se nello stesso paese S.A.S.E. (busta preaffrancata e preindirizzata).
7) Varie
• I contatti tra le SES non sono validi. Ogni singolo membro di un SES può contattare altre SES solo con il proprio nominativo personale.
• La porzione di frequenza compresa tra .500 e .600 deve essere lasciata libera. Le chiamate su .555 sono ammesse ma poi devono essere abbandonate immediatamente. Si prega di non abusare delle chiamate a .555.
• L'attività deve essere svolta esclusivamente in SSB.
• Il presente regolamento potrà subire ulteriori modifiche, integrazioni, ecc. se necessario da parte dell'organizzazione.

1) Fechas y horas
El Diploma MEMORIAL ALDO 001 tendrá lugar desde las 00:00 UTC del sábado 4 de noviembre hasta las 23:59 UTC del domingo 5 de noviembre de 2023 (48hrs).
2) Participantes
El propósito de este Diploma es recordar a nuestro querido Presidente y Fundador Aldo Russi 1AT001, fallecido en febrero de 2021.
Todos los operadores de 11 metros están invitados a participar, independientemente de sus Grupos o Clubes. Se intentarán contactar tantas Special Event Stations (SES) como sea posible. Cada una de ellas puede ser contactada solo una vez.
Los participantes serán ​​exclusivamente operadores únicos. No es necesario que envíen ningún log. Todos los rankings serán determinados por los logs recibidos por los SES.
3) SES Activos
Habrá en el aire varias Special Event Stations (SES) de diferentes países, llamando con la llamada especial xxAT001. Cada división AT con más de 30 miembros activará 4 SES, de acuerdo con el siguiente método. Por ejemplo de Francia: 14AT001/A (Alfa), 14AT001/L (Lima), 14AT001/D (Delta), 14AT001/O (Oscar), para componer la palabra "ALDO".
Las divisiones con menos de 30 miembros activarán solo un SES. Por ejemplo, de Suiza: 15AT001.
Cada SES puede estar compuesto por varios operadores, todos miembros del GRI Alfa Tango.
Cada equipo de SES debe solicitar su indicativo a través del Coordinador/Director nacional, si está presente. Si no pueden contactar This email address is being protected from spambots. You need JavaScript enabled to view it..
Al finalizar la activación enviarán sus logs siguiendo las instrucciones proporcionadas por el equipo organizador. No se permiten logs en papel y se recomendará un software dedicado.
4) Puntuaciones
• 100 puntos por cada SES xxAT001 contactado.
• 25 puntos por cada SES con sufijo xxAT001/A , xxAT001/L , xxAT001/D y xxAT001/O operando desde los países definidos en la regla n. 3).
• Cada país trabajado dará un multiplicador.
• Completar la palabra ALDO con los 4 SES del mismo país dará un multiplicador.
Por ejemplo, trabajando:
4 SES xxAT001 de 4 países diferentes: 4 x 100 = 400 puntos (y 4 multiplicadores diferentes)
2 SES con sufijo L y O en el mismo país: 2 x 25 = 50 puntos (y 1 multiplicador)
4 SES con sufijo A, L, D y O en el mismo país: 4 x 25 = 100 puntos (y 2 multiplicador)
La puntuación final se computaría como: 400 + 50 + 100 = 550 puntos que se multiplicarían por los 7 multiplicadores obtenidos y que totalizarían una puntuación final de 3850 puntos.
5) Premios
Se premiarán los tres primeros hunters clasificados y los tres primeros SES equipos activadores.
Cada participante podrá descargar un premio digital personalizado desde www.alfatango.org , elaborado por 1AT074 Max.
Por la gran cantidad de estaciones en el aire, nos gustaría recordar que según nuestras reglas de inscripción, quién se comunicará con al menos 30 estaciones AT de 30 países diferentes tendrán la oportunidad de unirse al grupo AT como segunda categoría de operador. 50 estaciones AT a pesar del número de países permitirán unirse a la 3ª categoría de operador.
6) QSL
Una bandera QSL estará disponible para cada SES. Las solicitudes se pueden enviar AQUÍ. Para actividades S.E.S. la contribución será "voluntaria". Si la tarjeta QSL va al mismo país (del remitente) un S.A.S.E. (sobre con su dirección y franqueo pagado).
7) Aclaraciones adicionales
• Los contactos entre SES no son válidos. Cada miembro individual de un SES puede comunicarse con otros SES, pero solo con su distintivo de llamada personal.
• La porción de frecuencia entre .500 y .600 debe dejarse libre. Las llamadas en .555 son admitidas pero luego deben abandonarse inmediatamente. No abuse de las llamadas .555.
• La actividad debe realizarse exclusivamente en SSB.
• Este reglamento puede sufrir más cambios, adicciones, etc. si es necesario por parte del equipo organizador.
This email address is being protected from spambots. You need JavaScript enabled to view it.

1) Dates et heures
Le prix du "Mémorial 001 ALDO" aura lieu du samedi 4 à 00h00 UTC au dimanche 5 novembre 2023 à 23h59 UTC.


2) Participants
Le but de ce prix est de se souvenir de notre bien-aimé Président et fondateur Aldo Russi 1AT001, décédé en février 2021.
Tous les opérateurs 11 mètres sont invités à y participer, indépendamment de leurs groupes ou clubs. Ils s'efforceront de contacter le plus grand nombre de "Special Event Station" (SES). Chacune d'entre elles ne pourra être contactée qu'une seule fois.
Les participants seront exclusivement en catégorie mono-opérateur. Il n'est pas nécessaire d'envoyer votre log car le classement sera établit en fonction des logs reçus des station SES.


3) SES actives
Il y aura sur l'air plusieurs "Special Event Station" (SES) de différents pays. Elle appelleront avec l'indicatif spécial xxAT001.
Chaque division AT comptant plus de 30 membres activera 4 SES, selon la méthode suivante.
Par exemple depuis la France : 14AT001/A (Alfa), 14AT001/L (Lima), 14AT001/D(Delta), 14AT001/O (Oscar), afin de composer le mot "ALDO".
Les divisions comptant moins de 30 membres n'activeront qu'une seule SES.
Par exemple pour la Suisse : 15AT001.
Chaque SES peut être composée de plusieurs opérateurs, tous doivent être membre du G.R.I. Alfa Tango.
Chaque équipe doit demander son propre indicatif par l'intermédiaire du coordinateur national, s'il est présent. Sinon, vous devrez contacter

This email address is being protected from spambots. You need JavaScript enabled to view it.

.
A la fin de l'activation, ils enverront leurs logs en suivant les instructions fournies par l'équipe organisatrice.Les logs papier ne sont pas autorisés, un logiciel dédié à cet évènement sera réalisé.
4) Scores
- 100 points pour chaque SES contactée xxAT001.
- 25 points pour chaque SES avec le suffixe xxAT001/A, xxAT001/L, xxAT001/D et xxAT001/O opérant depuis les pays définis dans le point 3 du présent règlement.
- Chaque pays contacté donnera un multiplicateur.
- Le fait de compléter le mot ALDO avec 4 SES d'un même pays donnera un multiplicateur.
Par exemple, en contactant :
4 SES xxAT001 de 4 pays différents : 4 x 100 = 400 points (+ 4 multiplicateurs différents)
2 SES avec les suffixes L et O dans le même pays : 2 x 25 = 50 points (+ 1 multiplicateur)
4 SES avec les suffixes A, L, D et O dans le même pays : 4 x 25 = 100 points (+ 2 multiplicateurs)
Le score final sera calculé comme suit 400 + 50 + 100 = 550 points qui seront multipliés par les 7 multiplicateurs obtenus, soit un score final de 3850 points.
5) Prix
Seront récompensés les trois hunters du classement et les trois premières SES équipes d'activateur.
Chaque participant pourra télécharger un diplôme numérique personnalisé sur
www.alfatango.org
, réalisé par 1AT074 Max.
En raison du grand nombre de stations à l'antenne, nous tenons à rappeler que par nos règles d'inscription qui contactera au moins 30 S.E.S. de 30 pays différents auront l'opportunité de rejoindre le groupe AT en tant que 2ème catégorie d'opérateurs. 50 stations AT malgré le nombre de pays permettront de rejoindre la 3ème catégorie d'opérateur.


6) QSL
Une QSL flag sera disponible pour chaque SES.
Les demandes peuvent être envoyées
ici
. Pour S.E.S. la contribution est "volontaire". Si dans le même pays S.A.S.E. (enveloppe pré-affranchie et pré-adressée).
7) Précisions complémentaires
- Les contacts entre SES ne sont pas valables. Chaque membre d'une SES peut contacter d'autres SES mais uniquement avec son indicatif personnel.
- La portion de fréquence entre .500 et .600 doit être laissée libre. Les appels sur .555 sont admis pour QSY. Veuillez ne pas abuser des appels sur le .555.
- L'activité doit être exercée exclusivement en SSB.
- Ce règlement peut subir d'autres modifications, ajouts, etc. si nécessaire par l'équipe organisatrice.
Updated: 25/11/2023 09:00 UTC



Aldo's Memorial Management:

This email address is being protected from spambots. You need JavaScript enabled to view it.

(by 1AT012)

Activated Stations and

logbook received

:
1AT001A; 1AT001L; 1AT001D; 1AT001O

2AT001A; 2AT001L; 2AT001D; 2AT001O

3AT001A; 3AT001L; 3AT001D; 3AT001O

4AT001

5AT001/L; 5AT001/O

9AT001A; 9AT001L; 9AT001D; 9AT001O

10AT001

12AT001

13AT001

14AT001A; 14AT001L; 14AT001O

15AT001

16AT001A; 16AT001L; 16AT001D

19AT001A; 19AT001L; 19AT001D; 19AT001O

20AT001

21AT001

22AT001

26AT001A; 26AT001L; 26AT001D; 26AT001O

29AT001

30AT001A; 30AT001L; 30AT001D; 30AT001O

31AT001L; 31AT001D; 31AT001O

32AT001

34AT001

35AT001

40AT001

41AT001

43AT001

47AT001

49AT001

55AT001

56AT001

58AT001

67AT001

68AT001

69AT001

75AT001

91AT001A; 91AT001L; 91AT001D; 91AT001O

93AT001

108AT001A; 108AT001L; 108AT001D; 108AT001O

113AT001

114AT001

119AT001

153AT001

161AT001A; 161AT001L; 161AT001D; 161AT001O

165AT001

168AT001

172AT001

178AT001

196AT001

205AT001

225AT001

328AT001

329AT001
Thanks for QSO! In memory of 1AT001 Aldo