World Meeting 2022
Article Index
Page 1 of 3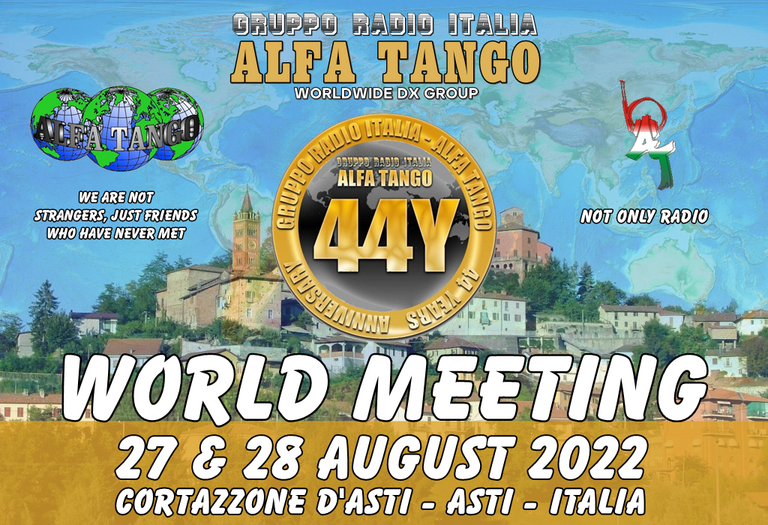 Finally after two years of forced blockade due to the COVID-19 pandemic, this year if all goes well, it is our intention to organize the WORLD AT MEETING on 27 and 28 August...
Agriturismo la Luna Nera
Via Cascinetta, 25, 14010 Cortazzone AT
We have already booked a Meeting Location 20 minutes from the Asti Ovest motorway exit.
We provide you with this information so that you can plan ahead. Here is a map.
Here are some B&B in the area:
https://la-bianchina-bed-breakfast.business.site
https://www.briccodeiciliegi.com
https://www.lacaramellinaasti.it
http://www.cascinabambi.asti.it
http://www.lacascinadeivecchisapori.it
B&B Raggio di Sole - Via per Viale, 5 - 14010 Cortazzone AT • 0141 995202
2022/07/13: The AT STAFF will arrive at the World AT Meeting location on Thursday 25th August (afternoon/evening). Should they wish, all the guests arriving in the Asti area from Friday 26 August, can reach the location of the Meeting, meet the AT STAFF, and use the swimming pool and an aperitif has been organized for the evening.
THE WORLD AT MEETING 2022 PROGRAM:
FRIDAY 26 AUGUST pre-meeting:
Throughout the day, guests will be welcomed at the Meeting location by the Staff
20:00: Apericena and final evening by the pool
MENÙ: Fantasies of the chef with alcoholic and non-alcoholic aperitifs
Cost: 15 Euros for person
SATURDAY 27 AUGUST:
11:00 am: Joint Briefing of the Board of Directors with Marco's Team QSL Managers and France QSL Buro.
FREE LUNCH
5.30 pm: Italian Municipalities Award Conference (I.M.A.)
7:30 pm: Dinner and final evening by the pool with music by 1AT670 Marcello
DINNER MENU:
2 starters: Mixed cold cuts + Spumette Tuna and Robiola
1 first course: Agnolotti with butter and sage
Sorbet
1 Second dish: Pork tenderloin with apples
1 Side dish: Ratatouille
1 Dessert: Hazelnut cake with eggnog
Wine - Water - Coffee
Cost: 25 Euros per person
SUNDAY 28 AUGUST:
10:00 AM: ALFA TANGO events prize giving
12.00: Outdoor/indoor full aperitif at the end of the awards event (depending on the weather conditions)
13:00: Lunch accompanied by lottery with rich prizes.
LUNCH MENU:
4 starters: Raw meat salad, Crepes with leeks and speck, Peppers with bagna coada, Vitello Tonnato
2 first courses: Lean cannelloni with ricotta, Pappardelle with wild boar ragout
Sorbet
1 second dish: Roast veal
1 side dish: Baked potatoes
1 dessert: Tiramisu
Wine - Water - Coffee
Cost: 35 Euros per person
CHILDREN MENU: Ham + Pasta + Milanese with potatoes + soft drink. (Cost: 10 Euros per child)
Let's all work together for the success of a nice Meeting. Thank you!
The World AT Meeting 2022 STAFF

Calendar | HQ contact |This email address is being protected from spambots. You need JavaScript enabled to view it.