14AT/EURO2016 S.E.S.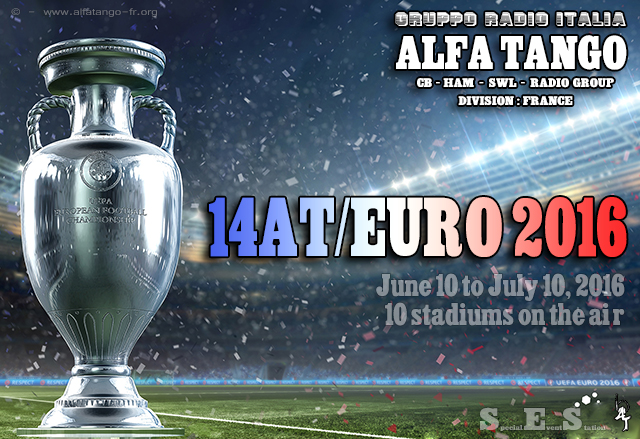 Rule 1: activation object
A SES activation is organized by the France division on the occasion of Euro 2016 with the baseline the 10 stadiums where matches will be played.
Rule 2: Teams and period of activity
10 Teams activate 10 stadiums from 10 June to 10 July 2016.
Rule 3: Activation Calls
The activation calls will be 14AT/EURO2016/ .. followed by two letters referring to the different stages: Bordeaux = BX, Lens = LS, Lille = LE, Lyon = LN, Marseille = ME, Nice = NE, Paris = PS, Saint Denis = SD, Saint Etienne = SE, Toulouse = TE. Example of call on the air: 14AT/EURO2016/BX
Rule 4: Contacts confirmation
Double QSL will be published on the occasion of this activity it will confirm all contacts made by operators.
Rule 5: QSL request
AFTER July 17, 2016 operators who contacted one or more teams may request confirmation of contacts by sending only one QSL for all activations contacted the General Manager 14AT208:
Alain LEHEUX
21 Allée des Tabacs
47200 MARMANDE - FRANCE
NO CALL ON THE ENVELOPE OR REFERENCE to the EURO 2016!
No need to send more than a QSL or log sheet. The contacts made will be confirmed based on logs activators teams which will be valid only.
Rule 6: Contribution
As an SES contact any confirmation request will necessarily be accompanied by a self addressed envelope or address label. The contribution is voluntary (possibly sending a ETSA).